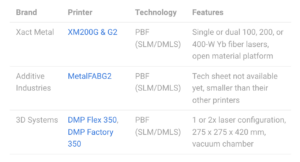 Massive metal 3D printing systems are the giants of the show every year and attendees marvel at the 3D printed heat exchangers, manifolds, and other tools and spare parts on display. This year, the more familiar names launched new printers.
Xact Metal wants to bring 3D printing to a wider audience with its flexible XM200G series available in a choice or single and dual fiber laser powers. Additive Industries is chasing production with a new MetalFABG2 that it says offers "double productivity compared to previous models." Scant details are available currently so you can expect a late 2022 rollout of this new machine.
The new printers from 3D Systems, the DMP Flex 350 Dual and DMP Factory 350 Dual, offer all the bells and whistles you know from 3D Systems but are about 50% faster the company says.